Running an auto shop is not so simple, you have to build a strong bond with your customers. Providing a  top-notch service matters a lot but dealing with your customers is equally important. If you treat them  nicely from the time they walk-in to the moment you hand over their car back to them, they become your  loyal customers and prefer you over anyone else. Here are some tips and tricks to deal with your  customers and increase your profit, let's dive in!
Make a Promising First Impression
The customers who come to the automotive shop are usually frustrated and concerned about their car.  They are looking for reliable service and want their car back on the road as soon as possible. Make your  first impression really promising to ensure that you are the one. Moreover, treat them nicely by not  making them wait and provide them a comfortable environment to talk about their vehicle's issue.
Listen to your Customer
Listening to your customer is the key. Not only you make your customer feel respected by listening to  them properly but you might also get the hint of what exactly happened to the car. Understand what the  customer is saying and respond to them properly like nodding your head or answering their questions.
Appear as a PROFESSIONAL
Your appearance matters a lot when you are working in an auto mechanic shop. It has a huge impact on  how your customers view you. When you are wearing a uniform, it leaves a good impression and  customers judge you as a professional. Ensure that the entire team is wearing professional auto repair  uniforms in working hours. This shows that you take your job seriously and make people use your services  in the future too.
Use Simple Words to Explain the issue
The mechanism of modern cars is complicated. Diagnose the car in detail and explain it to your customer.  While explaining, make sure that you are using simple words and describing everything in layman's  language. Don't confuse them by adding complicated details. Specify concisely what needs to be done in  the car and don't make them buy something they don't need.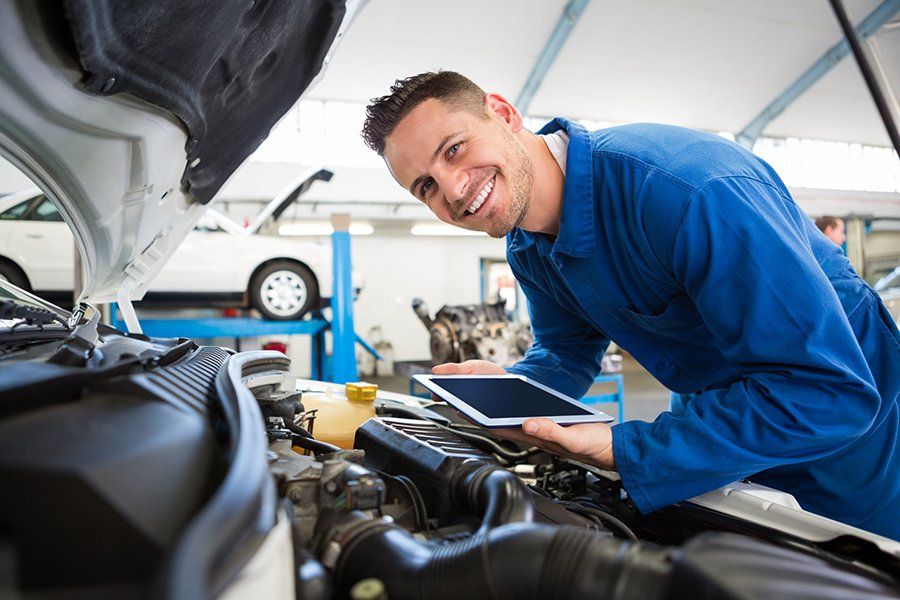 Communicate Properly
People are relying on their cars to go to work and other purposes. If they have got some problem in their  vehicles, they need assurance of what is happening to their car when it is fixed. Thus, a proper channel  should be devised to communicate with your customers. Also, your customer might have some questions  and queries about their respective vehicles so make sure that they have someone to talk to and to take  notice of their concerns.
Pay Heed to Feedback
To make your service better and ensure that customers are satisfied with your job, take notice of their  feedback. Pay heed to their feedback by monitoring every comment and forward it to the team so that  they can work on the part where you are lacking or need improvement. Responding to the reviews will  help you out in multiple ways. For instance, you can win back a customer by sending them a great review.
Ensure Good Customer Service
The auto repair shop is not only about vehicles, but it is equally about people. When someone walks into  your shop, greet him properly and appear professional. Listen to them and after diagnosis, explain to  them what happened to their car and what is required to fix the issue. Mention the estimated time and  cost along.
Send Regular Updates
Once the customers hand over their cars for repair and you start working on them, try to inform them  about their car on regular intervals. Keep them updated so they can stay tension free and trust you with  their car. Also they would be aware of what is happening to their car and if they find anything  questionable, they will ask it simultaneously.
Use Suggested Communication Method
Ask your customer about the channel he wants to use to get regular updates. For example, if you are  sending him emails and he is not checking them regularly, there may be a communication gap due to  which he would be unable to know the details of the progress of the car. Therefore, to ensure that your  customer is getting updates, use the communication method that is suggested by them.
Provide the Correct Estimate at the Beginning
Usually, auto mechanics do not inform you about the correct time and the exact cost required to fix the  issue which turns out to be the reason why customers never choose you in the future. Hence it is better  to inform your customers about the estimated cost and time you need to get the job done.
Remember Customer Details:
Everyone likes to be recognized and obviously your customer as well.
Remembering the customer's name and calling them directly through their name is minimal effort, but it builds an excellent impression on the customer. It forms a more genuine and conversational communication mode and connection. It makes a good relationship between you and your customers. Even better, It can make your customers feel special and shows that you are a more than usual customer for them.
 Help Customers:
When a Customer comes to your Shop may be thirsty or hungry. You can arrange some snacks and drinks for your customers. Definitely, it takes some expense. But that expense is nothing in front of your customer satisfaction.
You can help your customers in price affairs as well. Analyze your competitors' prices; if they are giving less price than you, try to match your price with them or less. If you can't lower your price, then try to provide the best experience to your clients because most drivers look for the best option for their vehicles. Pricing is crucial and a key factor in gaining and retaining a customer.
Conclusion:
I hope this article has helped you with some valuable tips and tricks to deal with your customer as an auto mechanic.
Here to go with a quick recap;
First, you need to arrange some drinks for your customers. Then, you should listen to your customer attentively. Don't try to be over-smart and use technical language in front of your customers, making your customers confused.
And of course, increasing the quality of your communication definitely increases your profit, client satisfaction, returning users and makes your Shop an ideal option to get high-quality services. Whether you are running a small shop or a large dealer, these tips and tricks will definitely work for you.
If you are looking for an online platform to get best quotes for your used commercial vehicles. Lkwfee.de is the best. You can sell mobile home /wohnmobil verkaufen, trucks, sell a caravan / LKW Verkaufen and all other kinds of commercial vehicles on this biggest online platform for germany. You just have to fill the free inquiry and all information relevant to your vehicle and then the lwkfee team will get back to you with the best quote for your used vehicle at their earliest possible time.