Your Ultimate Guide to Navigating A Buy Here Pay Here Car Lot
There's nothing more rewarding than purchasing a car of your own. And even if you have little or no credit, you aren't excluded from having this experience. A Buy Here Pay Here car dealership can put you in the driver's seat of a quality used vehicle, regardless of your credit history.
If this is your first time ever hearing about a Buy Here Pay Here dealership, don't sweat it. In this guide, we'll tell you everything you need to know before you step onto the lot.
What Does Buy Here Pay Here Mean?
A Buy Here Pay Here used car is the perfect option for anyone with little to no credit in need of a vehicle to call their own. At these dealerships, all the financing is done in-house, meaning there isn't a third party needed for approval. They assist you in finding a reliable, used car for an affordable price. From there, the financing is kept within the dealership and right on the lot.
Buy Here Pay Here is quick, easy, and most of all, hassle-free. Because everything is done in-house, you'll be working with the same team when it comes to the financing, sale, and billing of your car. This enables you to form a long-lasting, trusted relationship with the dealership.
How Do These Dealerships Work?
Buy Here Pay Here dealerships are just like other used car dealerships. Where they differ is the financing. When you purchase a Buy Here Pay Here used car, you make loan payments to the dealer itself rather than a bank.
So, why does this matter? Traditional car dealerships won't give you a loan if you have a poor credit score. This can then make it difficult for those drivers to purchase a car of their own. Fortunately, Buy Here Pay Here dealerships don't take credit into consideration when distributing loans. Instead, they focus on monthly income.
Buy Here Pay Here requires minimal paperwork. Most dealerships will just need a valid driver's license, proof of residence, a recent paycheck stub, and a bill for approval. No credit history necessary! Once you're approved, you can start browsing the inventory to find a car to call yours.
What Can Buy Here Pay Here Do For Me?
All buyers can get behind the wheel at a Buy Here Pay Here. Of course, the biggest offering of these dealerships is the opportunity it creates for individuals struggling with their credit score. Additionally, there are plenty more benefits that come from Buy Here Pay Here car lots.
Buy Here Pay Here is a great way to build your credit score. In-house car financing can make sure your on-time payments are recorded on your credit history report.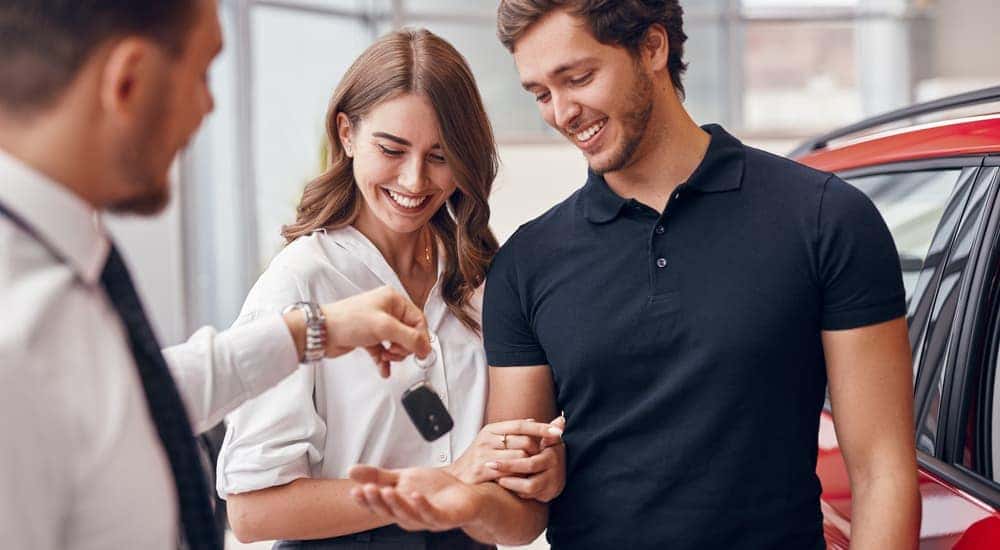 These dealerships have a large inventory of cars to fit every budget. No matter what you're looking to spend, you're guaranteed to find something on the lot. Select from compact cars, SUVS, and trucks in a variety of make and models.
At most Buy Here Pay Here dealerships, you have the ability to apply online. This means that you won't even have to leave the house to get started. In just a few clicks, you'll be one step closer to the car of your dreams.
Pay for your car in a way that works best for you. Many Buy Here Pay Here dealerships give you the option to make your payment at the actual lot, online, or by mail.
How to Find a Buy Here Pay Here Dealership Near You
Now that you're more familiar with all that a Buy Here Pay Here Dealership offers, it's time to visit one of these lots for yourself! To find one in your area, turn to Google. Just search "buy here pay here used cars" to get started. With your new knowledge about Buy Here Pay Here, you can arrive at these dealerships feeling prepared and confident.